Every year, the digitization rate in Polish society changes, which also means changes in social media statistics.
When planning marketing strategies involving social media, it's essential to be aware of these data.
In the context of Poland, a country with a growing number of social media users, it's worth thoroughly analyzing the previous year, 2022, and understanding the key aspects and trends that are useful for planning new marketing strategies.
Number of Internet Users in Poland 2022:
In recent years, there has been a consistent increase in the number of internet users in Poland. According to research conducted by Mediapanel in 2022, the number of users was 29.6 million, with approximately 25.8 million people using the internet daily. According to the report's data, in the year preceding 2021, internet users accounted for 84.5% of the country's entire population. However, at the beginning of 2022, this percentage increased to 87% of the population, encompassing individuals of all age groups. This indicates a dynamic process of digitization in Polish society and a growing prevalence of internet usage.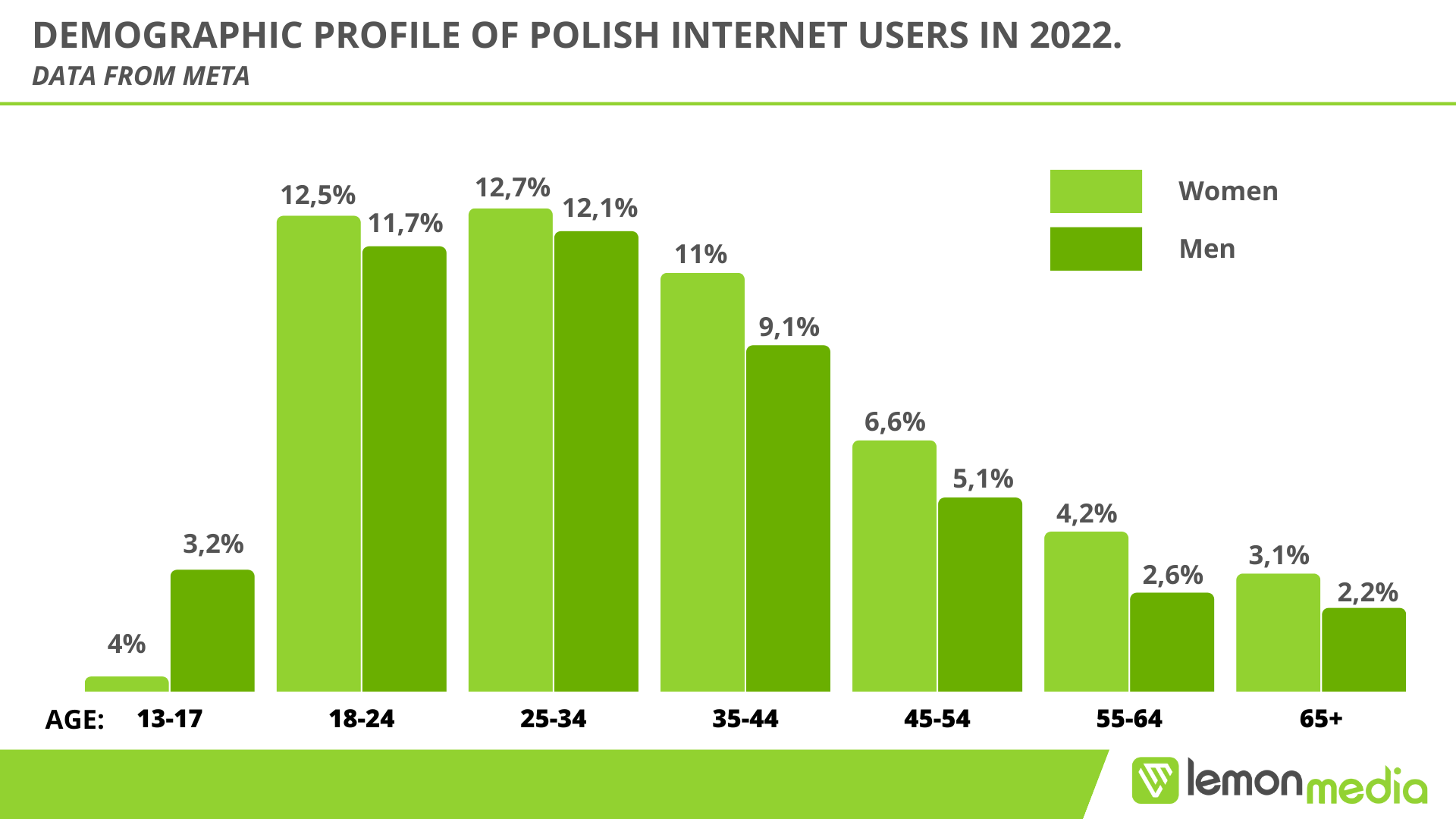 Rise in Social Media Popularity:
There has been a significant increase in the number of social media users. Over the course of one year, there was a jump from 68.5% of the population to 72%. Approximately 27 million Poles regularly use social media platforms, with an annual increase of +1.3 million users.
Change in Online Time Allocation:
It's important to note that during the studied period, users spent an average of 10 minutes less each day on social media compared to the previous year. Statistically, an increase in time was observed in other activities such as reading newspapers (an increase of 2 minutes), listening to music on streaming services (an increase of 6 minutes), listening to radio (an increase of 4 minutes), and listening to podcasts (an increase of 1 minute). These data indicate dynamic changes in user preferences.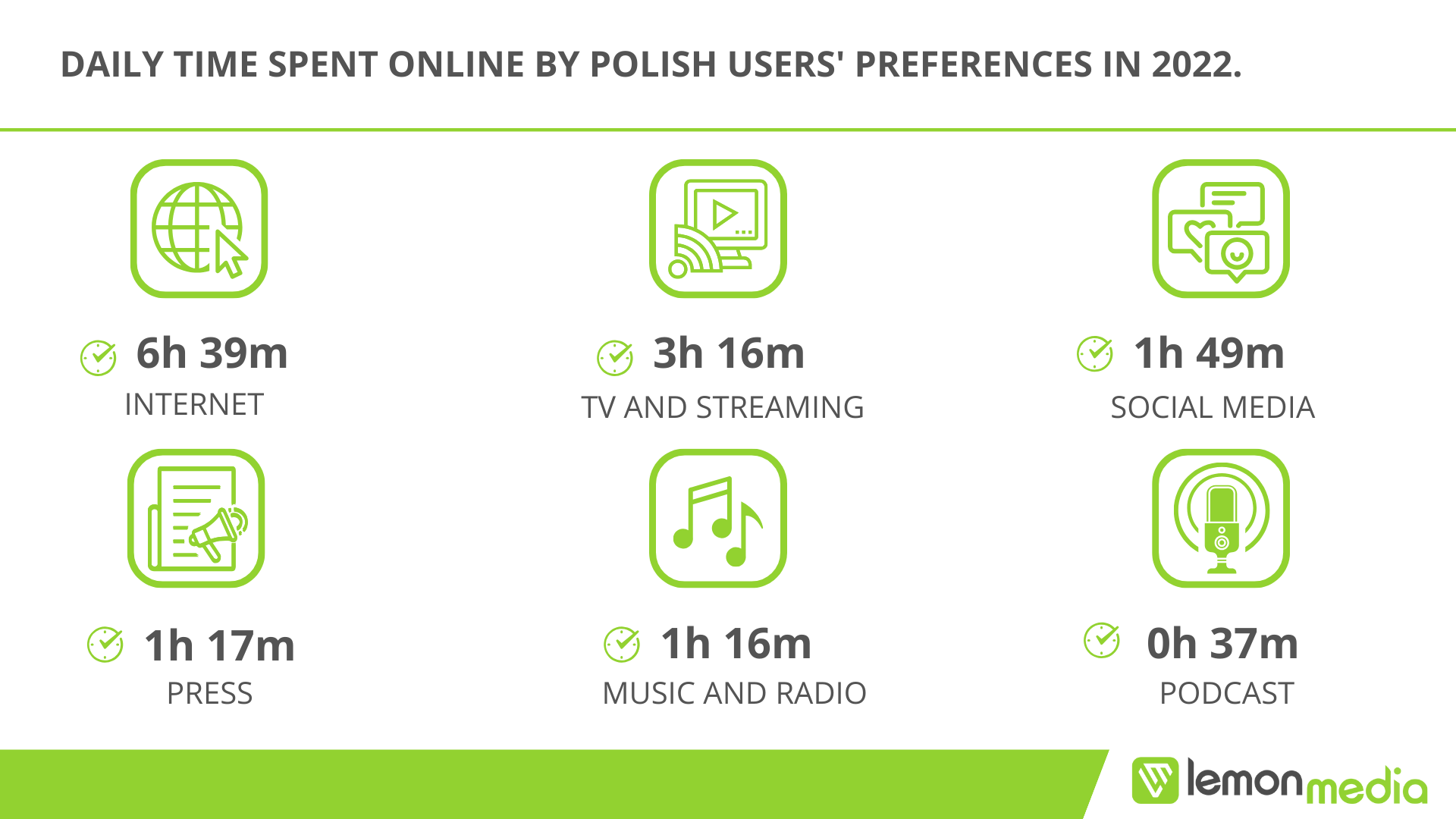 Social Media in Poland 2022:
One of the key trends in the past year was the dynamic growth in the number of users across various social media platforms, along with a decrease in the average time spent on social media per person. The average age also changed, with 83% of 13-year-olds using social media.
Facebook – Looking at the current situation in Poland, Facebook undoubtedly plays a dominant role in terms of user numbers. It's crucial to note that 53.3% of Facebook users in Poland exclusively use mobile devices, primarily smartphones. Only a small percentage, 3.1% of Polish internet users, access Facebook via computers. Other users switch between various screens, both large and small.
Instagram – Instagram also experienced noticeable growth in popularity in Poland in 2022. The platform now boasts 10.1 million users in Poland, representing an increase of approximately 1 million within a year.
LinkedIn – In recent years, LinkedIn has transformed in a way similar to Facebook, expanding its topics beyond work and business. In the previous year, there were 4.1 million active users on LinkedIn in Poland, and in 2022, this number increased to 4.6 million. While there was a growth of 500,000 users, it's important to note that more significant changes were expected. In terms of user preferences, only 1% of respondents indicated LinkedIn as their favorite social media platform. It seems that this platform still has significant potential in Poland, although it's not yet fully utilized.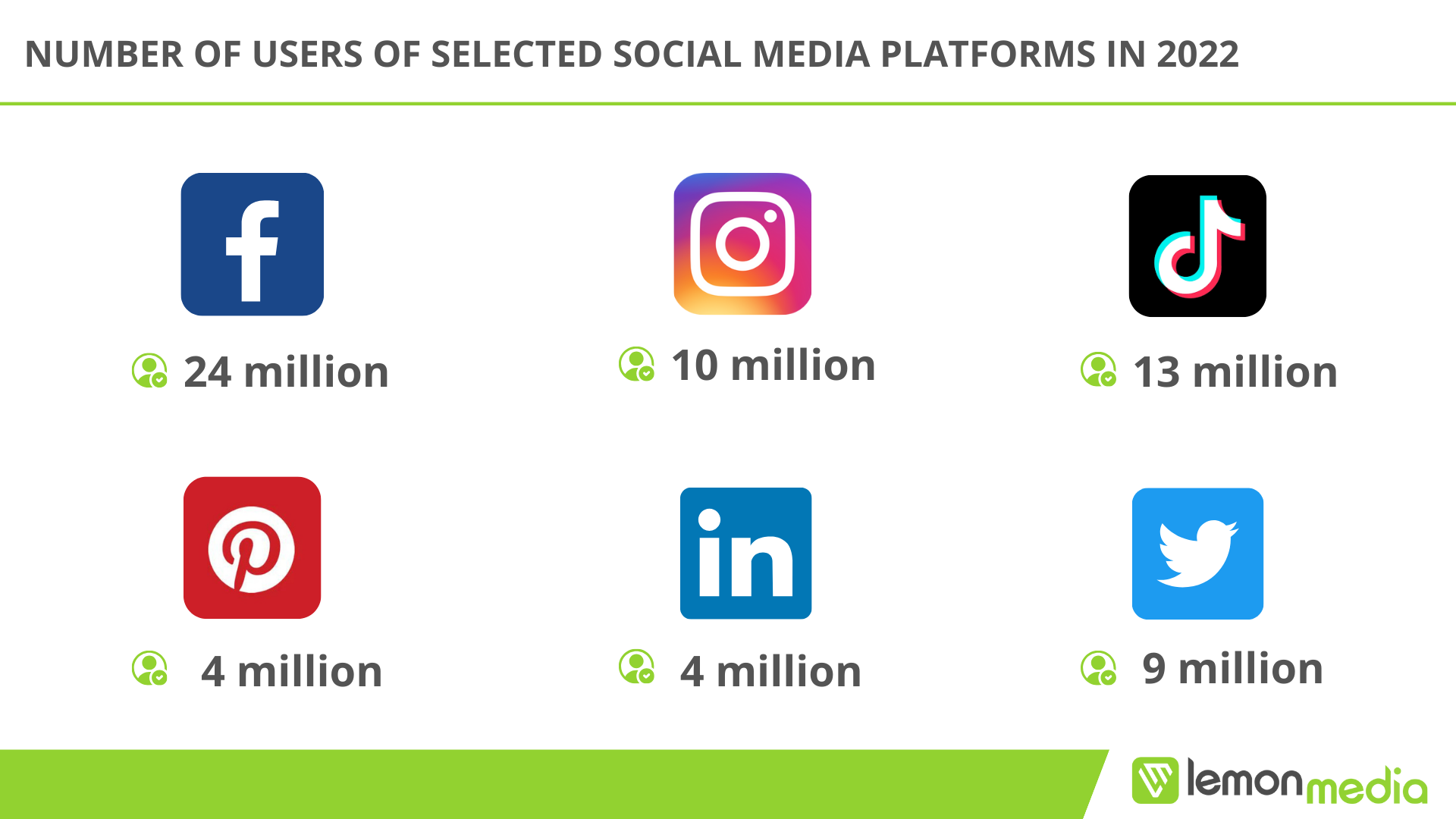 TikTok – In June 2022, the number of TikTok app users in Poland reached 13 million people, according to reports from the wirtualnemedia portal. The app climbed from ninth to fifth place in the ranking, attracting 34.1% of Poles aged 16 to 64. Furthermore, data analysis showed that among the younger generation (18-24 years old), approximately 40% of searches were conducted directly on social media platforms, bypassing traditional search engines. The survey results demonstrate TikTok's engagement capabilities. The average time spent by users on this platform was 18 hours and 31 minutes per month. Compared to Facebook, which ranked second with 16 hours and 10 minutes, and Instagram ranking third with 4 hours and 5 minutes per month, TikTok excelled at retaining users for longer periods. Over the year, the number of TikTok users in Poland increased by 918,000.
Twitter (X) – Twitter has lost popularity, especially in Poland, where it was practically dominated by political topics. Its users decreased from 37.5% to 26.25%.
Pinterest – According to research conducted by the Open Mobi agency in April 2022, women accounted for 89% of Pinterest users, and the age group ranged from 18 to 60 years. The research showed that 64% of surveyed individuals pay attention to ads on Pinterest, and 47% of them later made a purchase. The platform is most effective in promoting brands related to fashion, beauty, culinary, interior design, sports, and electronics.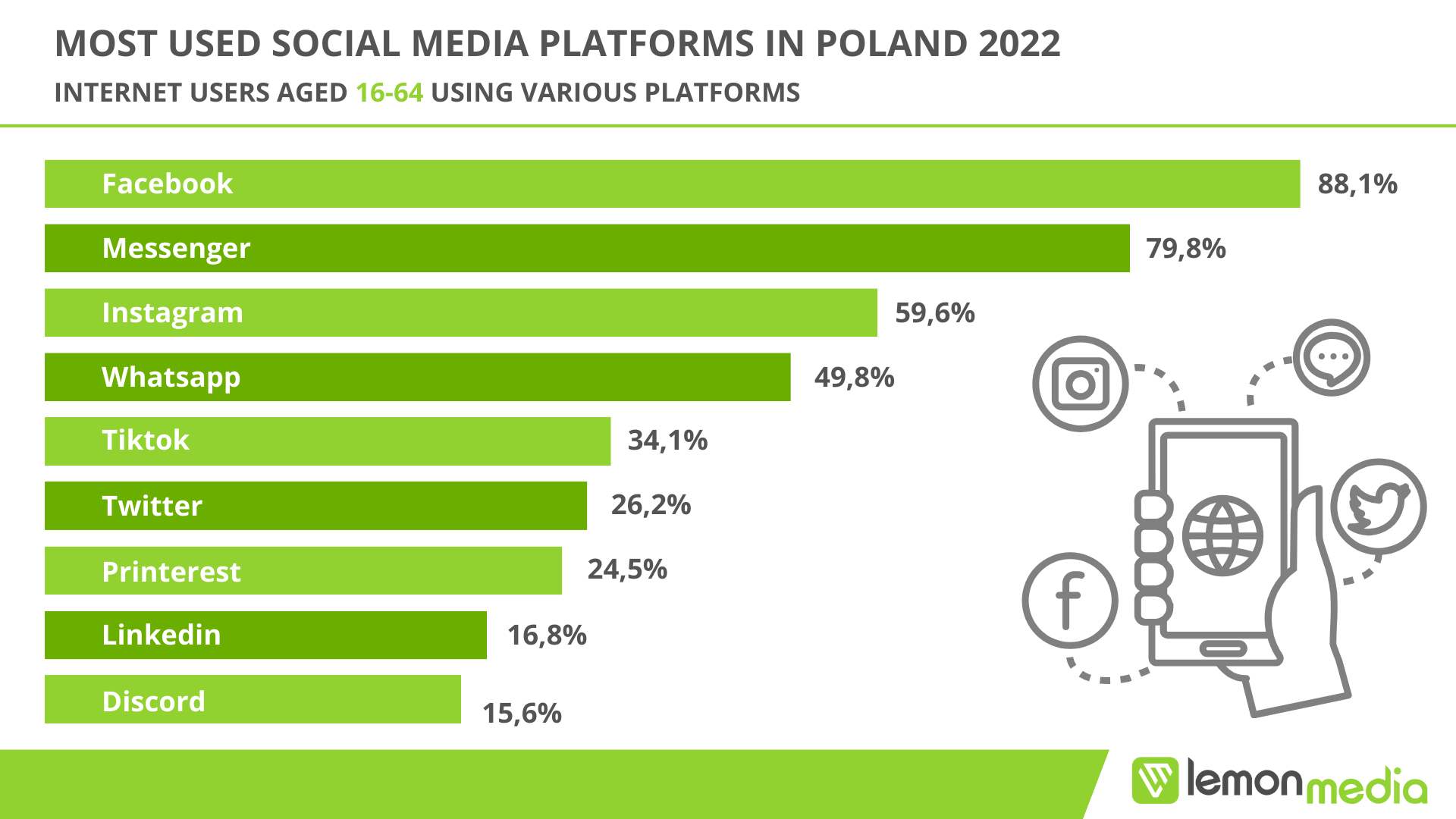 Trends in Social Media 2022:
In 2022, the vertical video format with sound became a common standard in brand communication on social media. Previously, this format was primarily developed on the TikTok platform. However, changes introduced on Instagram midway through the year, such as focusing on "Reels" in the feed, contributed to the integration of the vertical video format into mainstream communication.
Regarding various advertising formats, the overall market landscape remained relatively stable. Graphic ads and videos, comprising static displays and videos, still dominated with a 45% market share. This sector experienced a nearly 7% growth, driven mainly by online video content. SEM model ads accounted for nearly one-third of the online advertising market and saw significant growth as well. Announcements also experienced significant growth (+26%), rebounding from a decline in 2020. Growth was observed across all key online advertising channels, including programmatic models, mobile devices, and social media.
Is the Polish Online Market Attractive to German Companies?
Examples of German Brands on Polish Social Media:
Investing in Polish social media can bring tangible profits and a measurable ROI for German companies. The large consumer market in Poland, active social media users, building customer relationships, brand awareness growth, product and promotion promotion, maintaining competitiveness, support from Polish agencies for marketing campaigns, and creating a long-term brand image are just some of the reasons why it's worth investing in Polish social media.
Bonprix – Officially launched its operations in Poland in 2008. Since then, the brand has become popular in the country, offering fashionable clothing for various age groups. The company is actively present on Polish social media platforms such as Instagram and YouTube and has gathered over 7 million fans on Facebook.
Flaconi – A German online store operating in Poland since 2015, specializing in the sale of cosmetics and skincare products. It offers a wide range of cosmetics, fragrances, skincare products, makeup, and accessories from renowned brands. The company manages social media in Poland and has already attracted 197,000 fans on Facebook.
Forecasts and Trends for the Near Future:
In the context of social media development, continuous evolution can be expected. Currently, we are witnessing dynamic advancements in artificial intelligence, which is not only used to combat fake accounts and misinformation on platforms like Facebook, Twitter, and YouTube but also in customer interaction through chatbots that learn from user responses.
Significant progress is also being made in the area of content creation using artificial intelligence. Tools like Lately and Hubspot allow for the generation of posts using input data such as URL addresses.
As artificial intelligence continues to develop, social media advertising becomes more personalized, and the optimization process becomes more efficient. To maintain their dynamic nature, social media platforms are implementing new technologies, such as virtual reality (VR).
TikTok is positioning itself as an entertainment medium aspiring to compete with streaming platforms like Netflix. Users are spending more and more time browsing content on TikTok, and the diversity of themes presented is growing. In terms of content consumption time, TikTok is becoming an alternative to traditional forms of entertainment, such as watching movies or series.
Data Sources:
IAB/PwC AdEx 2022 Study
Wirtualnemedia Portal Research 2022
Datareportal Report
Pinterest 2022 Report conducted by the Open Mobi Agency